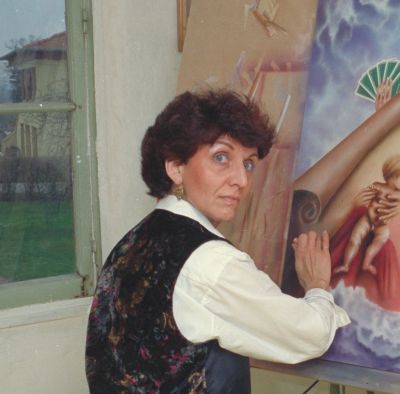 If Marie-Blanche Bayon is a graduate engineer from INSA Lyon (a Plastic Arts Studies section is offered to school students), the need to express herself through painting came to her at the age of 14. , thanks to a drawing teacher from the Firminy high school (Loire) who helped and encouraged the teenager to express the talent she had spotted in her. Later, Marie-Blanche continued her studies at the Petit Collège des Arts Appliqués de Lyon.
Born in Saint-Étienne in the Loire (France), the artist now lives and works near Lyon (France).
Since adolescence, Marie-Blanche Bayon has never stopped painting, whether in gouache at the very beginning, then in oil, to arrive at the work of acrylic on canvas, through watercolor. , inks, pastels. At the end of the 70s she took part in a group exhibition, then in another ..... then her work was regularly offered to an ever wider audience. His first personal exhibition dates from 1981.
Since 1981, his paintings, watercolor or pastel inks, have been presented in personal exhibitions in many regions of France such as Savoy (Entrepots Anselme gallery, Maison Commune d'Aix-les-Bains, priory of Bourget-du- lake, etc.), in Lyon (Sofitel gallery, Espace AGF, les Erables gallery, Jacques Coeur gallery, etc.), Saint-Étienne (les Alizés gallery), Clermont-Ferrand (la Harpe gallery), Bourg- en-Bresse (Bourgmayer gallery), Brest (Crédit Mutuel de Bretagne), Paris (Delpha space), Grenoble (l'Or du Temps gallery), Sophia-Antipolis (ABS Center), Cannes, Nîmes, etc ..... ...
His works have also been presented in various salons, in particular in Paris (Salon d'Automne at the Grand Palais, Espace Richelieu), Aix-en-Provence ("the Lords of Art"), Revin (Salon International d'Art Contemporary), etc ... And the event "Rendez-vous at the workshop" organized every two years by the Rhône-Alpes region since 2012 has enabled it to welcome visitors to its workshop.
Paintings have traveled to the USA (Center Nickel's Hills in Oklahoma-City, Maison Française in Washington) in Czechoslovakia (Schwartzenberg Palace in Prague), in Belgium (Ecuries du Domaine du Parc d'Enghien near Brussels and Liège)
His participation in group exhibitions has been rewarded with various prizes such as:
◊ Bronze medal and price of the show at the "Picturales"
◊ Silver medal in Aix-en-Provence
◊ Platinum Medal at the International Grand Prix of the International Academy of Contemporary Arts of Belgium
◊ Bronze palette of the Salon International de Revin
Finally, she is a member of the knightly order of the International Academy of Contemporary Arts of Belgium.
The Illustration (covers and illustrations of books) completes his work as a painter.
His work is quoted and indexed in the databases artialis and akoun.com